SRC SR92 Airsoft Conversion Kit
JBBG MARK
Welcome to Mark's Top Picks! In this blog, let's look at the NEW Beretta M92 Conversion Kit from SRC. This new product for 2020 is something very special and is designed for the SR92 pistol from SRC and available from Just BB Guns. This kit also works with most M92 replica gas blowback pistols but will NOT support full auto shooting. If you are looking for something different to add to your airsoft guns collection this may be for you.
The set includes all the necessary mounting and setting screws for aligning the replica pistol. The housing has a long Picatinny rail running almost the entire top part of the conversion. The rail ends at the place where the button for adjusting the stock's length has been placed plus the stock has 3 settings. The unit has QD sockets located below the button, on both sides, which is a very nice touch. Further accessory rails are located at the front, one on each side and one at the bottom for all your accessories.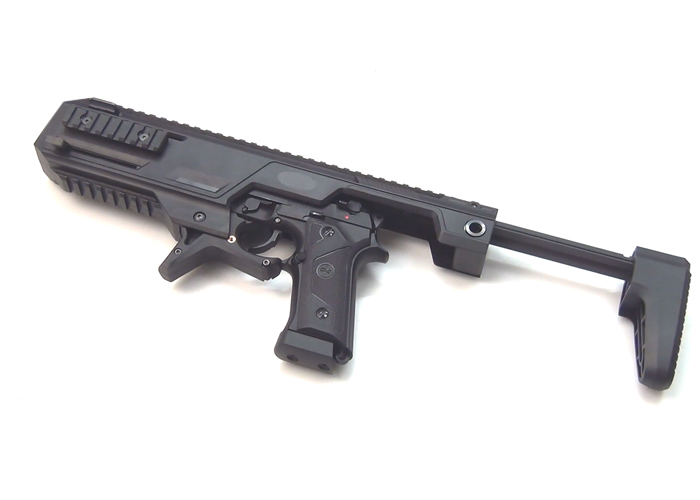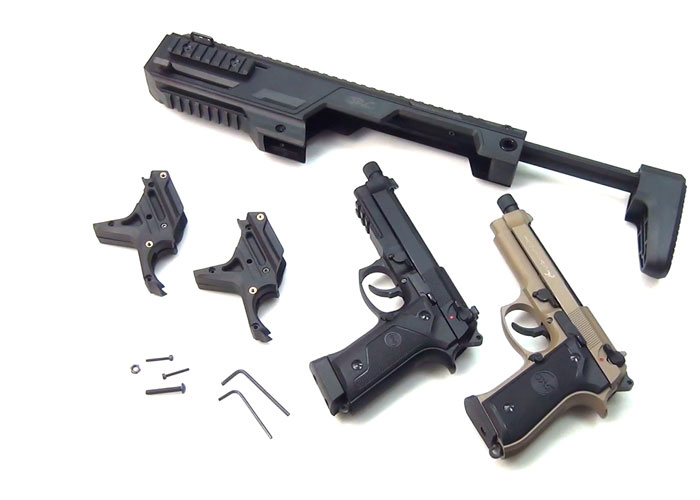 I have tested this with my SR92 and SR93 A3 pistols plus other HFC M92 models and the whole set works properly, without jams and blocking the slide, which is often the case in similar products. The lever on the bottom left side is used for pulling the slide back. The outlet opening is considerably enlarged for the purpose of using a silencer on the gun, a significant part of which will remain inside the housing. Most parts of the conversion kit are made of hard and stiff plastic. The quality of workmanship does not raise any objections and there are no visible moulding marks.
This is a conversion kit that cannot fire without the installation of an M92 style gas/co2 airsoft pistol. So you can buy this conversion kit in black to install your pistol whatever colour it may be i.e. black, tan or blue two-tone.
I am very happy to include this new SRC product in my top picks as it works great and looks very cool!
For more information please see the product page below…