Predator Ultra Gas (UK ONLY)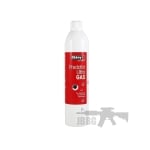 Predator Ultra Gas (UK ONLY)
£10.00
£10.00
This product can only be delivered to a UK mainland address. Abbey Predator Ultra Gas special formulation gives you complete confidence in a rapid accurate fire.
QUANTITY DISCOUNTS ON THIS PRODUCT
Simply add the quantity range of this product to the basket to apply the discount shown in the table below. Example; add 1 to the basket to pay the price shown, add 3 in the basket to apply the 10% discount. Simply add more at any time before you checkout to apply larger discounts. When the product is in the basket the price on this page will change to show the new discount price you will pay for each one.
| | | |
| --- | --- | --- |
| Name | Range | Discount |
| GAS | 3 - 4 | 10 % |
| GAS | 5 - 9 | 15 % |
| GAS | 10 - 200 | 20 % |
Description
PRICE MATCH
Reviews (0)
Description
Abbey Predator Ultra Gas
ABBEY Predator Ultra Gas is the ideal premium power high-performance gas for blowback guns.
The generous can size gives you many more shots per can over other brands. Unlike some brands, we fill our cans to maximum. Try it and count the refills, events or weekends before you repurchase. You will be amazed.
Abbey Predator Mini Ultra Gas is the ideal premium power high-performance gas for use in the field. Many gases use silicone or similar lubricants. Silicone is not designed to work in gasses so separates and sinks. You need to vigorously shake the can to remix the lubricant. You cannot be sure how much silicone is in each magazine refill. Silicone will also bind metal to metal, slowing or seizing your gun.
Abbey Predator Ultra Gas contains UPL+ – a high performance, extreme pressure lubricant designed for the seals and internals of your gas blowback gun. It will always remain mixed with the gas, eliminating vigorous shaking.
BENEFITS:
This lubricant is a light oil which spreads evenly and consistently through the working parts of your guns to give high reliability under combat conditions
Non-greasy structure makes maintenance and cleaning quicker and easier
Gas pressure remains unchanged so airsofters will see no damage to their guns
A large, high-pressure can is crammed full of high power gas providing considerably more shots per can than other brands
PRICE MATCH
As a leading retailer in the industry, we feel our prices are competitive.
If you find an identical product available from another genuine UK retailer, please let us know and we will aim to match or better it. Just fill out the form with the details of the retailer where you have seen it for a cheaper price, and we will then verify it and if possible amend our price within 48 hours.
We will only consider a price match if the following criteria are met:
The product is available from a genuine UK retailer
The product is NOT on Amazon or eBay
It must be identical to this product, including the colour
The product is supplied through a UK distributor and not a grey import or auction website
The product is new, undamaged, the latest specification and is not out of date or on clearance
The product is in stock available to the general public for collection or delivery
WE WILL ONLY PRICE MATCH THE PRODUCT AND NOT THE DELIVERY COST
All price match offers are at the discretion of Just BB Guns and we reserve the right to decline any price match without reason.
---
Only logged in customers who have purchased this product may leave a review.