AEG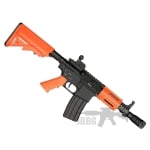 M4 Micro C Gen2 Airsoft Gun Orange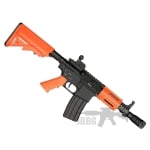 M4 Micro C Gen2 Airsoft Gun Orange
£179.99
£179.99
SRC GE-0505C M4 Micro Gen2 Assault Rifle RIF…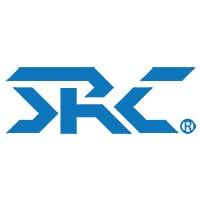 Description
Additional information
PRODUCT RESTRICTIONS
DELIVERY INFO
Reviews (0)
Description
M4 MICRO C GEN2 AIRSOFT GUN
SRC GE-0505C M4 Micro Assault Rifle RIF. AEG/SR4 MICRO Style Metal (CRANE STOCK) Ver 3. The M4 is a family of firearms tracing back to earlier carbine versions of the M16. It is a shorter and lighter version of the M16A2 assault rifle. The AEG Micro Versions have become very popular for use in Airsoft Close Quarter Battle (CQB), especially if you like the look & feel of the M4 Rifle. Star Rainbow Corp (SRC) has developed their Generation II M4 Micro, the SRC SR4 Micro.
The SR4 Micro sports a crane stock & pistol grip made of high-quality nylon Fiber plastic (very durable); the rest of this gun is all metal and solid! The shorter barrel makes it easy to handle for CQB or indoor play. SRC GEN 2 guns feature a metal gearbox & 8mm bearing design. This will ensure the SRC SR4 Micro can handle the rigors of the Airsoft play field. The Generation II SRC airsoft guns represent the finest Airsoft guns available today. They feature parts and components, out of the box, that airsoft players spend lots of money on in aftermarket add-ons. Get your Generation 3 SRC M4 Micro today & dominate the airsoft CQB playfield.
OUTSTANDING M4 MICRO AIRSOFT GUN
1:1 Scale airsoft electric Gun
Anodized Aluminum Body
Steel Sights, charging handle and selector switch
Nylon Fiber Stock, handgrip, and pistol grip
Aluminium tube, outer barrel and delta rings
Aluminium cylinder and piston head
Steel Gear set with 8mm bearings
High torque SRC Motor
Safe, semi and full-auto fire modes
Adjustable Hop-Up
Adjustable front and rear sight
Push-button collapsable sights when using rail optics
Integrated Rail System
260+ FPS w/.20G BB (Stock Spring), great for CQB play
360+ FPS w/included M120 Spring (Requires installation)
300 round hi-capacity magazine
ROF 12 rounds per second (w/ 8.4v battery)
Retractable Crane type stock
Inner Barrel Diameter – 6.05mm
Inner Barrel Length – 200mm
Length Collapsed – 25.5″
Length Extended – 28.5″
Weight Unloaded – 6lbs 5oz
SPECIFICATIONS
| | |
| --- | --- |
| FPS | 330 |
| POWER TYPE | ELECTRIC |
| MAG ROUNDS | 300 |
| HOP-UP | ADJUSTABLE |
| LENGTH | 820 / 900 MM |
| CONSTRUCTION | ABS & METAL |
| RECOMMENDED AMMO | 0.20G |
| WITH BATTERY | NO |
| WITH CHARGER | NO |
IN THE BOX
M4 AEG Electric Gun
Extended Butt Stock Cushion
M120 Spring Upgrade
Starter BBs, & Manual
Please note: battery and charger not included
Additional information
| | |
| --- | --- |
| GENERATION | GEN2 |
| COLOUR | |
| POWER TYPE | ELECTRIC |
| FPS | 330 |
| RECOMMENDED BATTERY | 9.6V 1600 BULLDOG AIRSOFT CRANE BATTERY |
| RECOMMENDED CHARGER | BULLDOG BATTERY CHARGER |
PRODUCT RESTRICTIONS

If you are 18 years of age or over you can buy a two-tone Airsoft BB Gun, one which PRINCIPLE COLOUR is significantly different from that of a real firearm i.e. bright orange, green, blue, clear etc.
There is no age restriction to own or to operate an Airsoft gun or pistol. It is within the law for a person that is 18 years or over to purchase a two-tone Airsoft gun or pistol and gift it to a person that is under the age of 18 years of age to own and operate. So, a parent can buy a two-tone airsoft gun or pistol and give it to their child to use or keep regardless of their age. We recommend that an adult should supervise persons under the age of 14 years.
Since October 2007 you can only buy a realistic imitation firearm (one that looks like a real gun i.e. black, tan, gold or silver) if you are at least 18 years old and meet one of the following conditions.
You are a REGISTERED airsofter with a membership of an insured skirmish site. To be registered you must attend a properly organised and insured airsoft site and play for at least three days over a period of not less than two months. Even if you attend and play the three days in your first week, UK Law requires that two months pass from the first day attended before you can legally be registered.
The delivery address is not in the UK
You have a current UKARA membership
You have a current UKAPA membership
You are a member of a properly insured historical re-enactment group or society
You are a film, television or theatre production company
You are (or are acting on behalf of) a museum
You are a Crown Servant in pursuance of your Crown duties
If you cannot meet any of these criteria, you can still buy an imitation firearm, one which PRINCIPLE COLOUR is significantly different from that of a real firearm – i.e. bright orange, green, blue, clear etc.
WARNING: The Manufacturer or Retailer shall NOT be held responsible or liable for any consequential, direct or indirect or special loss, damage, injury or accidents caused by the use of the products that are purchased. In ALL cases the purchaser or user assumes full responsibility and all risk associated with the use of our products.
DELIVERY INFO
| | | | |
| --- | --- | --- | --- |
| UK Mainland | Priority Delivery | 2-3 Working Days | £5.00 |
| | Standard Delivery | 4-5 Working Days | £3.00 |
| | Saturday Delivery | Order Before Thursday | £20.00 |
| | Buy and Collect | 30 Min After Ordering | £0.00 |
| | Free Delivery | 4-5 Working Days | Orders Over £100 |
| Scottish Highlands | Standard Delivery | 4-5 Working Days | £15.00 |
| Isle of Man | Standard Delivery | 4-5 Working Days | £15.00 |
| Channel Islands | Standard Delivery | 4-5 Working Days | £25.00 |
| Jersey | Standard Delivery | 4-5 Working Days | £8.50 |
| Guernsey | Standard Delivery | 4-5 Working Days | £8.50 |
| Southern Ireland | Standard Delivery | 4-5 Working Days | £8.50 |
| Belgium | Standard Delivery | 6-7 Working Days | £8.50 |
| Netherlands | Standard Delivery | 6-7 Working Days | £8.50 |
| France | Standard Delivery | 6-7 Working Days | £13.00 |
| Monaco | Standard Delivery | 6-7 Working Days | £12.00 |
| Denmark | Standard Delivery | 6-7 Working Days | £8.50 |
| Germany | Standard Delivery | 6-7 Working Days | £8.50 |
| Italy | Standard Delivery | 6-7 Working Days | £13.00 |
| Spain | Standard Delivery | 6-7 Working Days | £17.00 |
| Portugal | Standard Delivery | 6-7 Working Days | £22.00 |
| Greece | Standard Delivery | 6-7 Working Days | £30.00 |
| Austria | Standard Delivery | 6-7 Working Days | £19.00 |
| Czech Republic | Standard Delivery | 6-7 Working Days | £19.00 |
| Estonia | Standard Delivery | 6-7 Working Days | £19.00 |
| Finland | Standard Delivery | 6-7 Working Days | £19.00 |
| Hungary | Standard Delivery | 6-7 Working Days | £19.00 |
| Latvia | Standard Delivery | 6-7 Working Days | £19.00 |
| Lithuania | Standard Delivery | 6-7 Working Days | £19.00 |
| Norway | Standard Delivery | 6-7 Working Days | £26.00 |
| Poland | Standard Delivery | 6-7 Working Days | £26.00 |
| San Marino | Standard Delivery | 6-7 Working Days | £19.00 |
| Slovenia | Standard Delivery | 6-7 Working Days | £19.00 |
| Slovakia | Standard Delivery | 6-7 Working Days | £19.00 |
| Sweden | Standard Delivery | 6-7 Working Days | £19.00 |
| Switzerland | Standard Delivery | 6-7 Working Days | £26.00 |
| Bulgaria | Standard Delivery | 6-7 Working Days | £26.00 |
| Croatia | Standard Delivery | 6-7 Working Days | £26.00 |
| Romania | Standard Delivery | 6-7 Working Days | £26.00 |
| Turkey | Standard Delivery | 6-7 Working Days | £26.00 |
| Leichtenstein | Standard Delivery | 6-7 Working Days | £26.00 |
| Albania | Standard Delivery | 6-7 Working Days | £26.00 |
| Belarus | Standard Delivery | 6-7 Working Days | £26.00 |
| Bosnia | Standard Delivery | 6-7 Working Days | £26.00 |
| Kosovo | Standard Delivery | 6-7 Working Days | £26.00 |
| Macedonia | Standard Delivery | 6-7 Working Days | £26.00 |
| Moldova | Standard Delivery | 6-7 Working Days | £26.00 |
| Montenegro | Standard Delivery | 6-7 Working Days | £26.00 |
| Serbia | Standard Delivery | 6-7 Working Days | £26.00 |
| Ukraine | Standard Delivery | 6-7 Working Days | £26.00 |
| USA | Standard Delivery | 6-7 Working Days | £26.00 |
You may also like…
0.20G