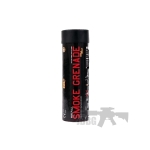 Smoke Grenade Red 1 (shop pick up only)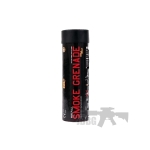 Smoke Grenade Red 1 (shop pick up only)
£4.99
£4.99
RED SMOKE FOR AIRSOFT from Enola Gaye…
This product can NOT be sent via our delivery services and can only be collected from our London store!
Description
DELIVERY INFO
Reviews (0)
Description
RED SMOKE FOR AIRSOFT from Enola Gaye…
A red smoke grenade with ring pull ignition, making it the safest on the market. No more fumbling with fuses or worrying about the weather. Burn time is approximately 60-90 seconds.
DELIVERY INFO
| | | | |
| --- | --- | --- | --- |
| UK Mainland | Priority Delivery | 2-3 Working Days | £5.00 |
| | Standard Delivery | 4-5 Working Days | £3.00 |
| | Saturday Delivery | Order Before Thursday | £20.00 |
| | Buy and Collect | 30 Min After Ordering | £0.00 |
| | Free Delivery | 4-5 Working Days | Orders Over £100 |
| Scottish Highlands | Standard Delivery | 4-5 Working Days | £15.00 |
| Isle of Man | Standard Delivery | 4-5 Working Days | £15.00 |
| Channel Islands | Standard Delivery | 4-5 Working Days | £25.00 |
| Jersey | Standard Delivery | 4-5 Working Days | £8.50 |
| Guernsey | Standard Delivery | 4-5 Working Days | £8.50 |
| Southern Ireland | Standard Delivery | 4-5 Working Days | £8.50 |
| Belgium | Standard Delivery | 6-7 Working Days | £8.50 |
| Netherlands | Standard Delivery | 6-7 Working Days | £8.50 |
| France | Standard Delivery | 6-7 Working Days | £13.00 |
| Monaco | Standard Delivery | 6-7 Working Days | £12.00 |
| Denmark | Standard Delivery | 6-7 Working Days | £8.50 |
| Germany | Standard Delivery | 6-7 Working Days | £8.50 |
| Italy | Standard Delivery | 6-7 Working Days | £13.00 |
| Spain | Standard Delivery | 6-7 Working Days | £17.00 |
| Portugal | Standard Delivery | 6-7 Working Days | £22.00 |
| Greece | Standard Delivery | 6-7 Working Days | £30.00 |
| Austria | Standard Delivery | 6-7 Working Days | £19.00 |
| Czech Republic | Standard Delivery | 6-7 Working Days | £19.00 |
| Estonia | Standard Delivery | 6-7 Working Days | £19.00 |
| Finland | Standard Delivery | 6-7 Working Days | £19.00 |
| Hungary | Standard Delivery | 6-7 Working Days | £19.00 |
| Latvia | Standard Delivery | 6-7 Working Days | £19.00 |
| Lithuania | Standard Delivery | 6-7 Working Days | £19.00 |
| Norway | Standard Delivery | 6-7 Working Days | £26.00 |
| Poland | Standard Delivery | 6-7 Working Days | £26.00 |
| San Marino | Standard Delivery | 6-7 Working Days | £19.00 |
| Slovenia | Standard Delivery | 6-7 Working Days | £19.00 |
| Slovakia | Standard Delivery | 6-7 Working Days | £19.00 |
| Sweden | Standard Delivery | 6-7 Working Days | £19.00 |
| Switzerland | Standard Delivery | 6-7 Working Days | £26.00 |
| Bulgaria | Standard Delivery | 6-7 Working Days | £26.00 |
| Croatia | Standard Delivery | 6-7 Working Days | £26.00 |
| Romania | Standard Delivery | 6-7 Working Days | £26.00 |
| Turkey | Standard Delivery | 6-7 Working Days | £26.00 |
| Leichtenstein | Standard Delivery | 6-7 Working Days | £26.00 |
| Albania | Standard Delivery | 6-7 Working Days | £26.00 |
| Belarus | Standard Delivery | 6-7 Working Days | £26.00 |
| Bosnia | Standard Delivery | 6-7 Working Days | £26.00 |
| Kosovo | Standard Delivery | 6-7 Working Days | £26.00 |
| Macedonia | Standard Delivery | 6-7 Working Days | £26.00 |
| Moldova | Standard Delivery | 6-7 Working Days | £26.00 |
| Montenegro | Standard Delivery | 6-7 Working Days | £26.00 |
| Serbia | Standard Delivery | 6-7 Working Days | £26.00 |
| Ukraine | Standard Delivery | 6-7 Working Days | £26.00 |
| USA | Standard Delivery | 6-7 Working Days | £26.00 |